Dentures Near You
Having missing teeth can affect your entire daily routine; it can make simple tasks such as speaking and chewing difficult. Furthermore, having missing teeth can affect your overall oral health, making your mouth more prone to a buildup of bacteria and oral infections. If you have missing teeth for a long period, it can also cause bone deterioration in your jaw. At Willowbrook Park Dental Centre, we offer dentures in Langley to patients with missing teeth to provide them relief and protect their overall oral health.
What Are Dentures?
There are two main types of dentures, full dentures, and partial dentures. When you have lost most of your teeth, you may decide to remove your remaining teeth to be eligible for full dentures. Dentures will either be placed immediately after your teeth have been removed or, if you opt for removable dentures, it can take a couple of weeks for them to be ready to adhere.
Most of the time, people associate dentures with individuals that have no teeth at all. However, if a patient is missing multiple teeth but still has healthy teeth in place, partial dentures may be a great option for them. Partial dentures are made to fit into your mouth and around the rest of your teeth. Partial dentures will blend in with your natural teeth to enhance your appearance.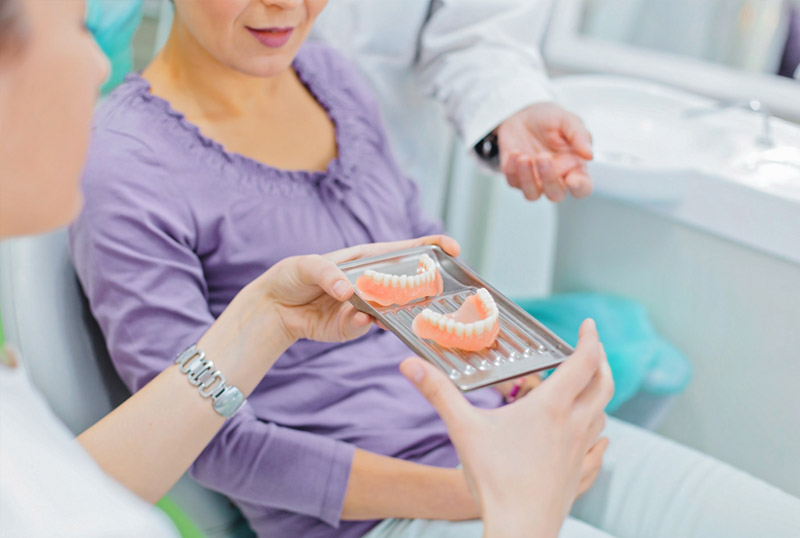 Benefits of Getting Dentures
If you are interested in dentures near you, you can look forward to a brand-new smile that will boost your confidence and fill in the gaps in your teeth. Artificial teeth can provide many benefits such as:
Improving your speech
Enhancing your smile
Increasing your confidence
Providing you with the ability to eat any food you like
Supporting your facial muscles
Improving your bite and chewing ability
How to Care for Your Dentures
After receiving dentures, it is vital that you take proper care of them so that they can last you for as long as possible. Dentures, while very durable, are more fragile than your natural teeth, so handle them with care. After receiving dentures, you should:
Clean your dentures every day
Remove your dentures when you sleep
Rinse your dentures after eating
Store your dentures properly when you are not wearing them
Handle your dentures gently
Interested in Dentures Near You?
If you are looking to regain your daily function and appearance, dentures are an excellent option for you. At Willowbrook Park Dental Centre, we offer dentures in Langley; please call us to book a consultation today!