Willowbrook Park Dental Offers $99 Dental Cleaning Near You
Stun your family and friends with a radiant new smile from our dental cleaning near you
Treat yourself to a stunning smile with dental cleanings starting at only $99. More details below:
Enjoy a comprehensive and thorough dental cleaning near you for only $99
How Do I Take Advantage of this Offer?
Call our clinic at: (604) 757-6855 today, or fill out our request appointment form.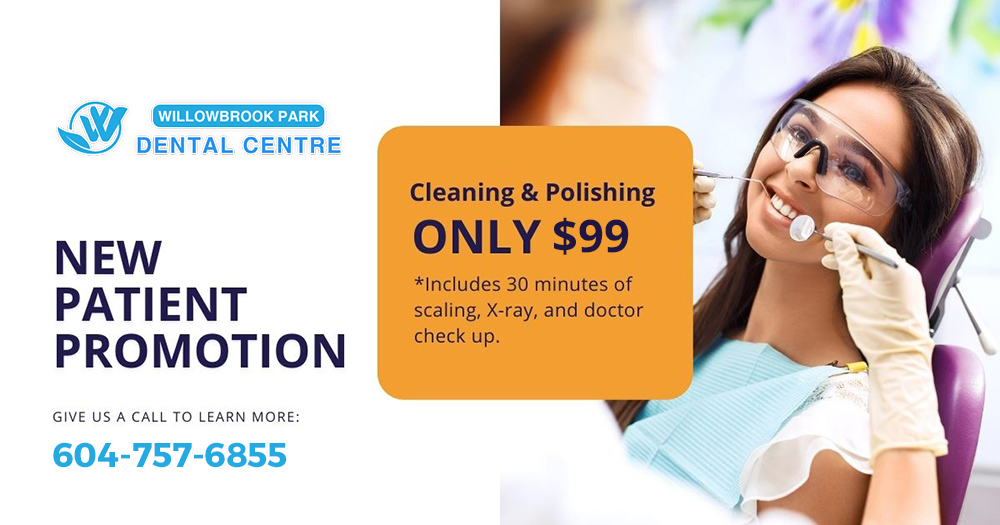 What To Expect At Your Dental Cleaning
When you visit our team of dedicated dental professionals at Willowbrook Park for a $99 dental cleaning near you, the process will involve our experienced dental hygienist scaling, cleaning, and polishing your teeth, as well as providing you with a fluoride treatment to strengthen your tooth enamel and leave you with a radiant smile. They will take the time to educate you on best oral hygiene practices and will alert our dentist about any abnormalities or areas of concerns they may find. Together, our dental team will work with you to determine the best treatment plan going forward for all your dental needs. Our administrative team will be happy to provide you with estimates for further treatments and schedule any necessary appointments.